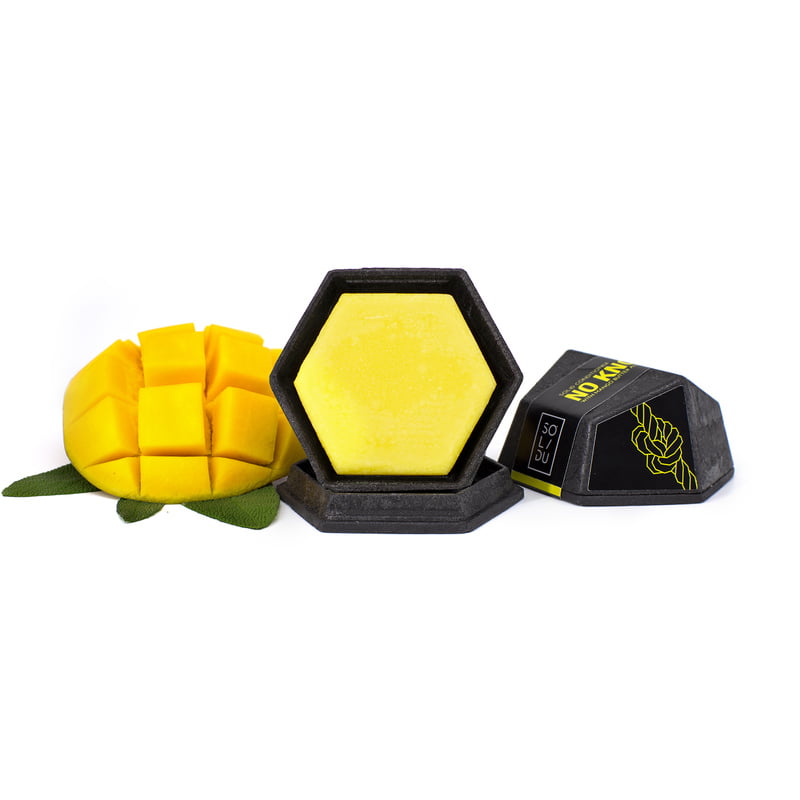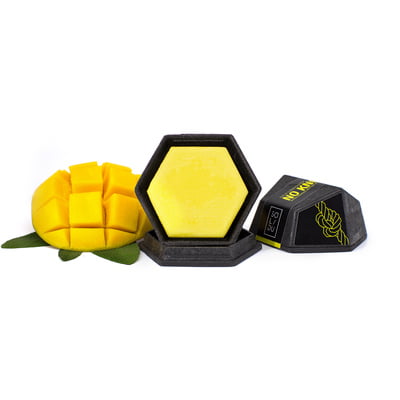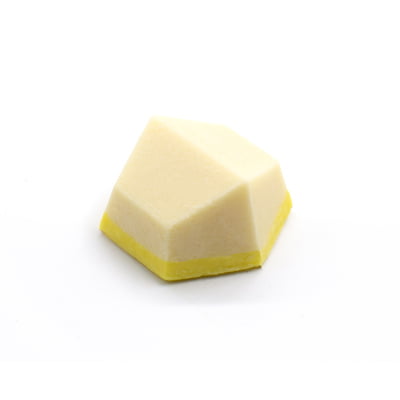 NO KNOTS Solid conditioner
Detangling hair conditioner with mango butter and jojoba oil
A splash of citrus and yellowness for easy-to-comb hair. NO KNOTS is a solid conditioner that will perfectly detangle hair, giving it extra shine and smoothness. Enriched with lots of mango butter, jojoba oil, unrefined cocoa butter, and silk amino acids. Scented with natural essential oils to invigorate your senses: fresh citrusy lime with a note of coriander and frankincense.
To keep the hair and scalp healthy, NO KNOTS is packed full of moisturizing, soft mango butter, which has a high percentage of fatty acids, minerals, and vitamins. Jojoba oil gives an added protection against dryness, breakage, and split ends. Jojoba is rich in vitamins and minerals that nourish hair, including vitamin C, vitamin E, B vitamins, copper, and zinc.
For extra hair strength, smoothness and manageability, silk amino acids are added: a natural protein extracted from raw silk.
Use the top part (bright yellow) to give your hair ends extra nourishment and softness, and use the bottom part (dark yellow) closer to your hair roots.
Weight: 55gr
WHY CHOOSE SOLID CONDITIONER?
EFFECTIVE.
Solid conditioners are made from concentrated shampoo ingredients, so they work great for your hair.
NO WATER.
You only get the actives, so you don't pay for water. It also means more compact, cheaper and less polluting transportation.
BIODEGRADABLE INGREDIENTS.
We don't use microplastics, silicones or other ingredients that don't readily biodegrade. (see complete list of ingredients below)
ZERO-WASTE.
Packaged in a 100% recycled, FSC certified cardboard box and 100% plastic-free.
The box can be backyard composted and biodegrades in 45 days.
TRAVEL-FRIENDLY.
Light and easy to carry, no worries about spilled liquids in your bag, no restrictions when packing it in a carry-on on a plane.
LASTING.
One bar lasts just as long, or even longer than a conventional bottle of conditioner.
1. Moisten the bar under warm water.
2. Slide the bar along your wet hair.
3. Rinse after a few minutes.
4. Store in a dry place.
Cetearyl Alcohol, Cetyl Alcohol, Mangifera Indica (Mango) Seed Butter, Behentrimonium Methosulfate, Theobroma Cacao (Organic Cocoa) Seed Butter, Simmondsia Chinensis (BIO Jojoba) Seed Oil, Citrus Aurantifolia (Lime) Oil, Aqua, Glycerin, Hydrolyzed Silk, Panthenol, Limonene, Litsea Cubeba (May Chang) Fruit Oil, Pogostemon Cablin (Patchouli) Oil, Citral, Butylene Glycol, Phenoxyethanol, Ethylhexylglycerin, Coriandrum Sativum (Coriander Essential Oil), Boswellia Serrata (Frankincense) Oil, Linalool, C.I. 77019, 77891, 77492, Geraniol, Citronellol.