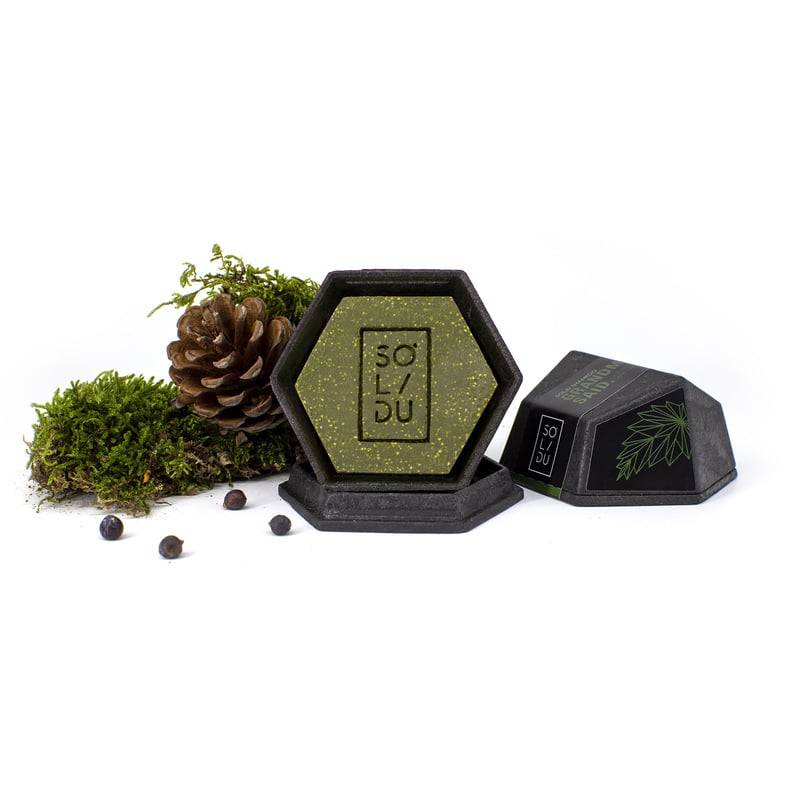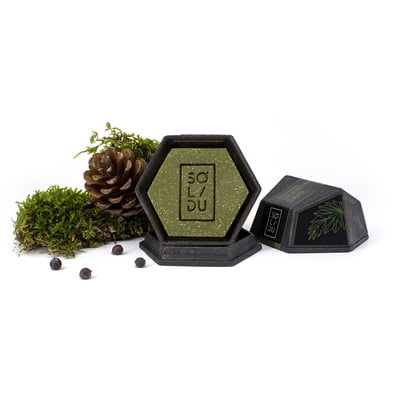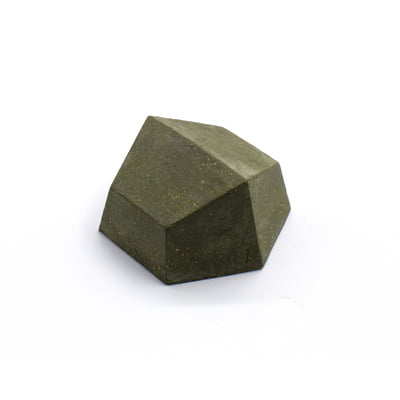 GRANDMA SAID Solid shampoo
Shampoo bar with nettle and tamanu oil
SOLIDU solid shampoo GRANDMA SAID makes use of two magical haircare ingredients: stinging nettle and tamanu oil. It intensely moisturizes and conditions, and is perfect for weak hair that needs more volume. In Lithuania we have long used stinging nettle decoctions to stimulate hair growth, to improve shine and appearance of hair. In GRANDMA SAID, powdered organic nettle leaves are used.
Native to Southeast Asia, tamanu oil is a great source of hair nutrients, used to regenerate and restore hair and scalp to its healthy state. In GRANDMA SAID we use it cold-pressed and unrefined, very thick in consistency and full of aroma: it naturally smells like freshly cut grass and raw nuts. This brownish-green oil is pressed from tamanu nut and is rich in nutrients (like linoleic, oleic, palmitic and stearic acids). For its properties, tamanu oil is often used on broken, chemically treated and weak hair.
Cedarwood, rosemary, and juniper essential oils both stimulate your scalp and give GRANDMA SAID shampoo its resinous, woodsy scent.
WHY CHOOSE SOLID SHAMPOO?
EFFECTIVE.
Solid shampoos are made from concentrated shampoo ingredients, so they work great for your hair.
NO WATER.
You only get the actives, so you don't pay for water. It also means more compact, cheaper and less polluting transportation.
BIODEGRADABLE INGREDIENTS.
We don't use microplastics, silicones or other ingredients that don't readily biodegrade.
(see the complete list of ingredients below)
ZERO-WASTE.
Packaged in a 100% recycled, FSC certified cardboard box and 100% plastic-free.
The box can be backyard composted and biodegrades in 45 days.
TRAVEL-FRIENDLY.
Light and easy to carry, no worries about spilled liquids in your bag, no restrictions when packing it in a carry-on on a plane.
LASTING.
One shampoo bar lasts just as long, or even longer than a conventional bottle of shampoo.
1. Wet your hair.
2. Rub the bar between your palms and lather it up.
3. Stroke the bar across your hair, massage hair and scalp, rinse.
4. Store dry between uses.
Sodium Cocoyl Isethionate, Sodium Coco-Sulfate, Cocamidopropyl Betaine, Urtica Dioica (Nettle) Powder, Butyrospermum Parkii (Organic Shea) Butter, Cetyl Alcohol, Calophyllum Inophyllum (Organic Tamanu Oil), Cetearyl Alcohol, Behentrimonium Methosulfate, Olea Europaea (Extra Virgin Olive) Oil, Coco-Caprylate, Rosmarinus Officinalis (Rosemary), Cedrus Atlantica (Cedarwood) Bark Oil, Juniperus Communis (Juniper) Wood Oil, Panthenol, Lactic Acid, Tocopherol (Natural Vitamin E), Cocos Nucifera (Organic Coconut) Oil, Limonene, Phenoxyethanol, Ethylhexylglycerin, C.I.: 77288, Limonene, Linalool.