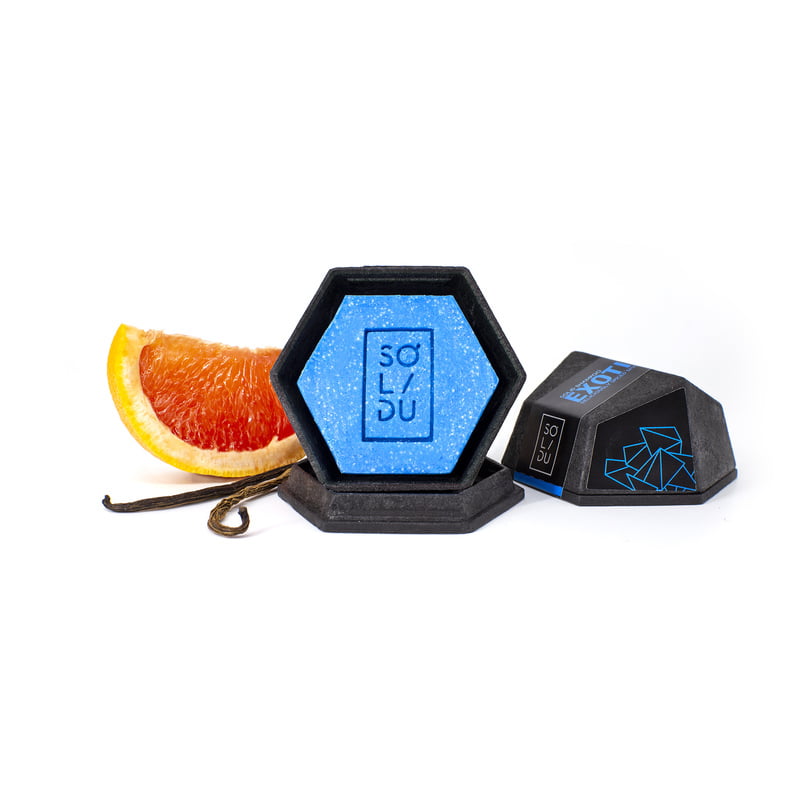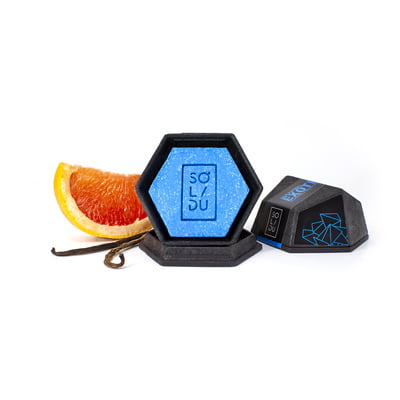 EXOTIC Solid shampoo
Deliciously spiced shampoo bar
There are times when you just need a blue shampoo!
EXOTIC – expressive and daring shampoo bar for those that dance to their own beat. Vanilla & citrus are deliciously spiced with eucalyptus, patchouli, ylang-ylang and clary sage. Enriched with vitamin E, virgin coconut oil, as well as nourishing mango and cocoa butters. Perfect cleansing with subtle conditioning, leaving your hair feeling refreshed, light and voluminous. Suitable for everyday care of all hair types.
WHY CHOOSE SOLID SHAMPOO?
EFFECTIVE.
Solid shampoos are made from concentrated shampoo ingredients, so they work great for your hair.
NO WATER.
You only get the actives, so you don't pay for water. It also means more compact, cheaper and less polluting transportation.
BIODEGRADABLE INGREDIENTS.
We don't use microplastics, silicones or other ingredients that don't readily biodegrade.
(see the complete list of ingredients below)
ZERO-WASTE.
Our plastic-free, 100% natural box is backyard compostable (in 45 days).
The box can be backyard composted and biodegrades in 45 days.
TRAVEL-FRIENDLY.
Light and easy to carry, no worries about spilled liquids in your bag, no restrictions when packing it in a carry-on on a plane.
LASTING.
One shampoo bar lasts just as long, or even longer than a conventional bottle of shampoo.
ABOUT OUR COMPOSTABLE PACKAGING
SOLIDU packaging is plastic-free, paper-free and upcycled: it's produced from starch, bamboo, and charcoal. The box can be backyard composted and biodegrades in 45 days. Bamboo is one of the most sustainable materials on earth, growing up to a metre per day. To make this box, offcuts from the production of bamboo chopsticks are processed together with natural starch. The material is dyed with charcoal without using synthetic dyes. The box can be useful for the soil as fertilizer or can even be mixed into animal feed as a carbohydrate source.
HOW TO USE
1. Wet your hair.
2. Rub the bar between your palms and lather it up.
3. Stroke the bar across your hair, massage hair and scalp, rinse.
4. Store dry between uses.
Sodium Cocoyl Isethionate, Sodium Coco-Sulfate, Cetyl Alcohol, Cetearyl Alcohol, Behentrimonium Methosulfate, Cocamidopropyl Betaine, Decyl Glucoside, Theobroma Cacao (Organic Cocoa) Seed Butter, Vegetable Glycerin, Fragrance, Pogostemon Cablin (Patchouli Essential Oil), Eucalyptus Globulus (Eucalyptus) Leaf Oil, Coco-Caprylate, Panthenol, Lactic Acid, Mica, Citrus sinensis (Orange) Peel Oil, Tocopherol (Natural Vitamin E), Cananga Odorata (Ylang-Ylang) Flower Oil, Mangifera Indica (Mango) Seed Butter, Salvia Sclarea (Clary Sage Essential Oil), Phenoxyethanol, Ethylhexylglycerin, Cocos Nucifera (Organic Coconut) Oil, Limonene, Linalool, Benzyl Benzoate, Citral, Benzyl Salicylate, Farnesol, Citronellol, Geraniol.